Properties:
Camper internet bundle including:

Teltonika RUTX11 4G LTE CAT 6 Camper router 300 MBps
Poynting MiMo-3-V2-15 Vehicle antenna 5 in 1

4-Pin Cable
Description
TELTONIKA RUTX11 is a highly reliable and secure 4G Machine to Machine router for professional applications. Thet RUTX11 delivers high performance, mission-critical cellular. Through the dual SIM failover function of RUTX11 the LTE Router offers the possibility to build a redundant 4G connection.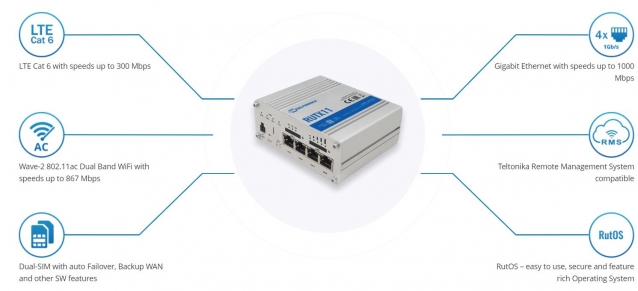 The RUTX11 allows you to set up a constant 4G / LTE or 3G / UMTS internet connection with transfer rates of up to 300 Mbps downlink and 50 Mbps uplink in 4G mode and 42 Mbps download and 5.76 Mbps upload (DC-HSPA + standard) in 3G mode. With the RUT X11 you can set up a wireless / wired network to share with several terminals LTE or UMTS connections to utilize.
TELTONIKA RUTX11 LTE router has two external SIM card slots. You can use two different providers to build a redundant LTE or 3G connection with Failover and Fallback functionality.

Built-in WiFi access point allows to create your own wireless network or hotspot. This WiFI Access Point offers transfer rates of up to 300Mbps (Wireless N standard) with latest encryption and security standards such as WPA / WPA-2. The connection of wired Devices and integration into an existing wired network is easily done with the integrated 3-port 10/100/1000 Mbps Ethernet switch.

A rugged aluminum housing and solid engineering ensures consistent performance, reliability and durability in harsh and demanding environments such as caravans, Campers, trucks or boats.
Read more about the powerfull Teltonika RUTX11 Camper router 300 MBps.
Teltonika Wiki:
For support and the latest firmware updates we refer to the Teltonika WiKi Knowledegbase.
Extra Gain with the 5G Proof Poynting MiMo-3-V2-15:
In area's where the signal is low the poynting MiMo-3-V2-15 enhances the signal up to 6 dBi. The mimo-3-V2-15 5 in 1 antenna is 5G proof and comes with a complete cable and mounting set.
Read more about the new 5g proof Poynting MiMo-3-V2-15 camper antenna.

In the Box:
Teltonika RUTX11 (RUTX11000000) 4G LTE CAT 6 Camper router
Poynting MiMo-3-V2-15 vehicle antenna 5 in 1
4-pin charging cable PR2LK20M