Properties


Description
This bundle has been specially put together for internet on campers. This bundle is based on a Celerway stratus 5G single modem router that can be combined with a maritime quality antenna from Poynting antennas. For a competitive price we offer a suitable internet solution for every situation. This combination can also be used for other solutions such as: marine, yachting and other vehicles.
Celerway Stratus 5G single modem router
The Celerway Stratus 5G 1 Gbps m2m router is a powerful, fast and very reliable IOT router that guarantees stable and high data throughput and offers extensive features such as the Remote Management Systems and 5 Gigabit Ethernet ports.
Connected to the Mobile 5G LTE network, the Celerway Stratus 5G Single modem dual wan LTE router offers super fast internet. In locations where 5G network coverage is not yet available, the Celerway Stratus 5G dual modem automatically switches back to a 4G network.
Poynting OMNI-A0414
The Poynting OMNI-A0414 is an ultra-wide band LTE and WIFI antenna, which covers all LTE operating frequencies(410-3800MHz) with an excellent gain across all frequencies. The Poynting-A0414 is a 4x4 MIMO omni antenna and has 4 separated radiating elements placed above each other in the same radome. With a frequency reach up to 3800 MHz this antenna is suited for the future 5G network.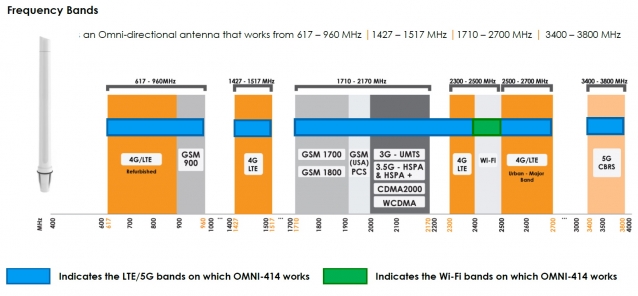 Due to the brilliant antenna design the Poynting Omni-a0414 lte MiMo antenna has a superior radiation pattern over the entire frequency range. With the Poynting 4x4 OMNI-A0414 you have a true high performance omni-directional 4x4 MIMO antenna, suitable for marine and coastal applications.
The Poynting A-OMNI-0414-V1-01 guarantees signal reception almost everywhere around the world. Poynting Antennas achieves this through new antenna configuration using multiple dipoles and a unique (patented) feed network. The antenna is 5G-future proof as it covers the 617-3800MHz LTE frequency which is becoming more popular in various regions and countries!
In the box:
Celerway stratus 5G single modem router
CWY-M5.3-E5C1W2
7090049150739

Poynting OMNI-A0414

6009710923504
Quick start guide
User manual
4x C-CLF195SJ-5SP