Mobile, fast, stable and worldwide internet for on holiday, for remote work or on the building site.
This holiday bundle, remote work bundle and construction site bundle has been specially put together for holiday homes, construction sites and building sites. For a competitive price, MiFi-Hotspot.nl offers the internet solution for your situation. This bundle consists of the Celerway stratus LTE CAT 12 dual modem router and the Poynting Xpol 24 5G proof antenna with 5 or 10 meter cable.
Celerway Stratus LTE CAT12 dual modem
Celerway Stratus CAT12 dual modem router 950 Mbps provides you with an high performing mobile communication solution for uninterrupted and rock-solid connectivity in a vast number of deployment scenarios. For public transportation, trucks, and near-shore vessels, remote offices, retail, and live events, Stratus delivers high class connectivity with resilience, security, and network visibility, making it a potentially indispensable part of your toolkit. Celerway Stratus multi-WAN router comes in 2 models:
Model 1: Single Modem, 2 Wi-Fi Radios 1x 2,4 GHz + 1x 5 GHz

Model 2: Dual Modem, 3 Wi-Fi Radios

1x 2,4 GHz + 1x 5 GHz

+ 1x 2,4+ 5 GHz
One of the most important features of the Celerway Stratus is the rugged housing produced of impact resistant materials that endure extreme conditions. In this way, the Celerway Stratus multi-WAN (max. 8) router 950 Mbps M2M easily endures shocks, vibrations and extreme temperatures.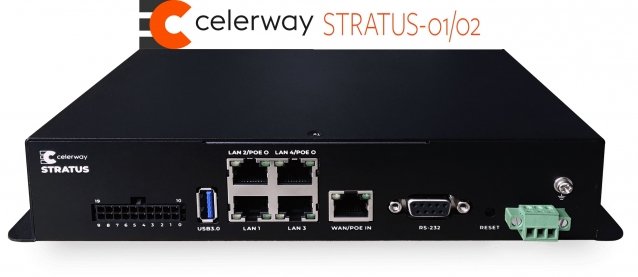 The rugged Celerway Stratus is equipped with 5 Gigabit Ethernet ports, configurable as LAN and WAN ports. One UTP port is configurable as PoE.3 as IN (Power over Ethernet) and 2 ports as PoE OUT. In this way, you can power up external devices such as access point, satellite modems, cameras, etc.
Furthermore, Celerway Stratus features an external gps-connection and an USB 3.0 port. Stratus can be charged directly using batteries and has a wide input of 9-36V DC. The STRATUS model-01 comes with two radios (1x 2,4GHz Wi-Fi b/g/n and 1x 5GHz a/b/g/n/ac). STRATUS model-02 has an extra radio (1x 2,4 + 5 GHz), which is also configurable as a WAN connection (Wi-Fi WAN). The Celerway Stratus router runs on the high-speed 4G LTE network and seamlessly connects with various applications such as Machine to Machine (M2M) and vehicle applications in the industry. Therefore, Celerway Stratus delivers high-speed and reliable internet connections.
CelerwayOS Nimbus en Phantom
CelerwayOS is the Open Source software application ensuring flexibility, realibility and security. Running on little processing power CelerwayOS delivers high performance routers. As mobile technology evolves rapidly with 5G and beyond Celerway chooses for a 'mobile-first' approach.
Celerway Nimbus and Celerway Phantom are considered to be key components of CelerwayOS. Celerway Nimbus provides users with the opportunity to easily configure and deploy a large number of routers remotely. Nimbus comes with a comprehensive suite of performance indicators, analytics and alerts, which enables real-time monitoring and management of devices running CelerwayOS. For example, Celerway Nimbus enables users to quickly configure large-scale implementations online, which accelarates the onboarding process of external administrators. The comprehensive set of quality indicators, analytics, and alerts authorizes remote controllers to perform real-time monitoring, reducing the time spent managing devices.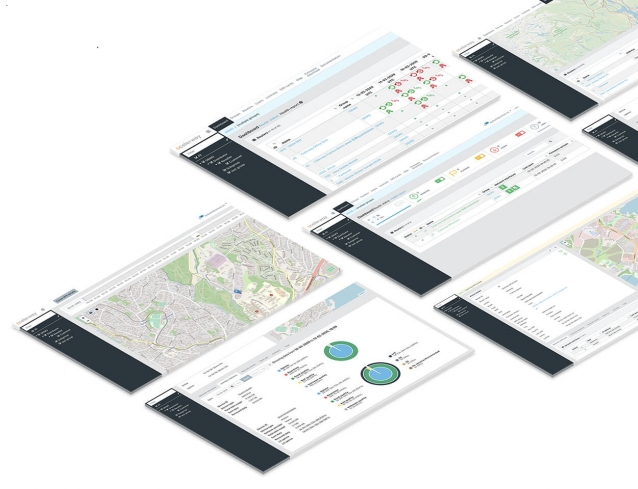 While ensuring uninterrupted high speed VPN connectivity Celerway Phantom enables dynamic VPN load balancing and seamless switching between multiple networks. In this way, set up a flexible, secure, and reliable network connection without loss of data. Any hardware router or virtual device can function as a hub or branch, or both, while each branch can connect to multiple Phantom hubinstances. The most optimal hub instances will automatically be selected by Celerway Phantom. In addition, Celerway Phantom can be deployed on location or in the cloud providing its users with an uninterrupted high-speed VPN and site-to-site communication across multiple simultaneous networks of any type.

Celerways SD WAN, multi-WAN routers, and M2M devices are powered by CelerwayOS providing the best price-quality ration in their class. Competitively priced, Celerway routers are the perfect solution for large deployments in transportation, retail, marine and other challenging enviroments.

Learn more about the Celerway technology.
Learn more about STRATUS uninterrupted and high-performing connectivity on the Celerway website.
Poynting A-XPOL-A0024-V1-01
The Poynting XPOL-24-5G-V1-01 antenna provides an innovative and future proof solution for 5G/ 4G / 3G and 2G networks. It is a unique wall or pole mountable, dual polarised, full LTE band panel antenna. Incorporating two separately fed ultra wideband elements in a single housing, the antenna is equipped to provide client side 4x4 MiMo and diversity support for the networks of today and tomorrow. Gain is 11 dBi across all bands: 698-3800 MHZ and the xpol-24-V1-01 is 5G proof.

This is a cost effective value added product for signal enhancement and ensures higher throughputs and stable links for subscribers. This will improve subscribers' user experience and improve client retention. It is ideal for any applications using the 2G to 5G cellular network.
Application Areas
• Outdoor antenna for Fixed Wireless Access (FWA)
• Consumer LTE/5G internet connectivity
• Industrial & Commercial LTE/5G deployments
• Urban and rural household reception enhancement
• Agricultural & Farming LTE/5G data distribution
• Power, Energy & Water telemetry access
• Oil & Gas communication systems
• Municipal & Government systems
• Repeaters & coverage enhancement amplifiers
Properties:
In the box:
Celerway STRATUS 3YP-CWY-5.2-E5L2W3 CAT12 router dual modem router
EAN 7090049150401 Model 2


1x Power supply 24V DC 3A




1x Power Cable 3-pin L=2 meter




2x 5 dBi Wi-Fi Antennas (2.4 G)


2 or 4 x 2dBi 4G LTE Antennas (4G LTE)
1x Gps-antenna
1x QS Manual Engels
1x Celerway Nimbus subscription: 3 years
1x Celerway Phantom subscription: 3 years
1x Hardware warranty: 3 years
Poynting Xpol-A0024-V1-01
EAN 6009710924693
Bracket (BRKT-062)
Quick start guide