Description
The Poynting ePoynt-4 EPNT-4 antenna housings are designed to integrate existing 2x2 or 4x4 MiMo routers to create a 4G LTE/5G Internet solution.
The Poynting ePoynt-4* ePoynt-4* 2x2 (A-EPNT-0004-V1-15) en 4x4 (A-EPNT-0004-V1-17) Omni MiMo antenna housing can be used in combination with a 2x2 or 4 x 4 MiMo 4G LTE/5G router of your choice to create a 4G LTE/5G Internet solution for homes, businesses, offices and aboard ships.
Superior MIMO performance
The Poynting ePoynt-4* ensures seamless, consistent and reliable 4G LTE/5G connectivity. The EPNT-4 offers a variety of antennas in one package such as 4×4 5G/LTE MIMO, 2×2 Wi-Fi MIMO and an additional GPS antenna. The 4G LTE/5G broadband antennas operate from 617 to 4200 MHz, covering the major 5G/LTE bands with excellent gain of up to 3 dBi across all frequencies.
The Wi-Fi antennas operate on two bands and cover the 2.4 GHz, 5 GHz and 7.2 GHz Wi-Fi bands with peak gain of up to 5 dBi. In addition, the antenna elements in the housing are cross-polarized, further improving the overall performance of the antenna. Combining the cellular and Wi-Fi antennas with a router produces a CPE with exceptional performance and increased and stable data throughput.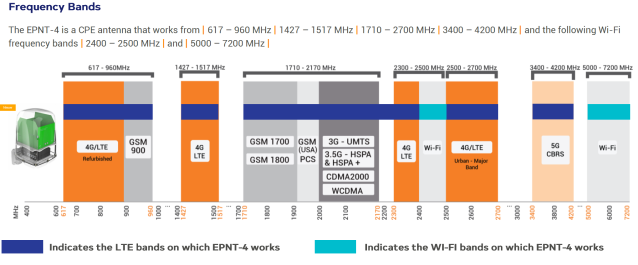 The router compartment measures 140 x 120 x 50 mm, allowing installation of 4G LTE/ 5G routers from Celerway, Robustel 1520, Teltonika (X11, X12, X14 X50), Sierra Wireless and Cradlepoint, among others. (router is not included).


Compatibele routers

Celerway

Cradlepoint

IBR900 series, IBR200 series, R500-PLTE Series, CBA550 Series, C400

Peplink

Max BR1 classic, Max BR1 mini (HW3), Max BR1 Mini Core, Max Br1 pro, Max BR1 M2M, UBR LTE, Max Transit mini

Teltonika

RUT200, RUT240, RUT241, RUT360, RUT950, RUT951, RUT955, RUT956, RUTX09, RUTX11, RUTX12, RUTX14, RUTX50, RUTX10, TRB140, TRB141, TRB142, RUTX145, TRB245, TRB255, TRB500

Sierra Wir.

Airlink RX55, Airlink RV55, Airlink RV50X, Airlink LX40

Robustel

EG5120, EG5100, LG5100, R5.020, R1520 Global, R2.011, R2.010, R1.511, R1.520, R1.510, R1.500, R2.110, R2.000, R3.000, R3000 Quad, R3000 Lite, R3.010, R3000 LG, M1200, M1000 MP, R1511P
Due to short antenna cables, there is hardly any attenuation loss. The routers can be powered via PoE (power over Ethernet), over a long distance (>100 mtr). Mifi-hotspot has several PoE solutions available at extra cost.
Completely Protected
The EPNT-4 is fully protected from salt water thanks to its UV-stable ASA radome material so it can be used in highly corrosive environments including chemical and toxic environments. The enclosure also offers a robust mechanical design to withstand adverse weather conditions making the EPNT-4 vandal and weather resistant with an IP67 & IK10 rating.
The antenna housing comes standard with a mounting bracket and knock-in screws that can be used for different mounting options
Properties
ePoynt-EPNT-4* 2x2 Omni antenna housing for 2x2 mimo routers
EAN 6009710924853
ePoynt-EPNT-4* 4x4 Omni antenna housing for 4x4 mimo routers
EAN 6009710924877
Frequency range 617-4200 MHz
Multi-band Wi-Fi of 2.4, 5 to 7.2 GHz
Includes high-performance GPS/GLONASS antenna
SMA (M) Right Angled Connectors
RTK-031 Coax Cable
Protection class IP67
Wall/pole and surface mount
Suitable for 2x2 and 4x4 4G LTE and 5G routers
Max router demensions 140 x 120 x 50 mm
In the box
Poynting A-EPNT-0004-V1-15 or A-EPNT-0004-V1-17 antenna
Pole Mount
Wall Mount
Surface mount gasket
Optional
BRKT-38-V1-01 Marine ratchet rail antenna bracket 1"-14TPI, 316 Stainless Steel