Features:
Freqency range 617-4200MHz
6009710924938
Wifi-freq 2,4-2,5 GHz
EAN6009710924235
Type:4x4 Omni MiMo 5G/LTE Marine Antenna
High performance Marine antenne
LTE/5G future proof
BRKT-90 bracket RVS316 (optional)
Pole, wall and deck mount bracket
Gain: Max 8,0 Dbi
Cable N/A
Bulkhead connectors
Description:
The Poynting A-OMNI-0914 Narwhal marine antenna is an ultra-wide band LTE and WIFI antenna, which covers all LTE operating frequencies(617-4200MHz) with an excellent gain across all frequencies. The Poynting-A0914 is a 4x4 MIMO omni antenna and has 4 separated radiating elements placed above each other in the same radome. With a frequency reach up to 4200 MHz this antenna is suited for the future 5G network.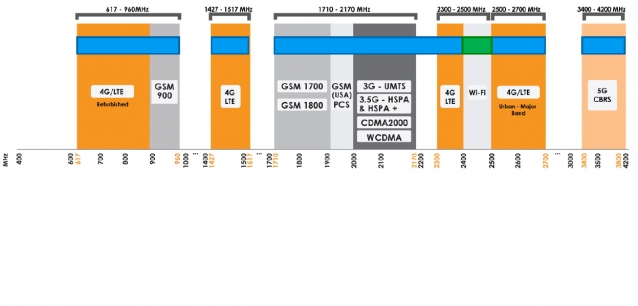 The new 4x4 OMNI-A0914 marine antenna is robust and highly resistant to extreme weather conditions (hurricanes) (IP68) due to its UV and saltwater resistance. The housing is made of polyester and stainless steel 316 parts.
Due to the brilliant antenna design the Poynting A-OMNI-0914 lte MiMo antenna has a superior radiation pattern over the entire frequency range. With the Poynting 4x4 A-OMNI-0914-V1-01 you have a true high performance omni-directional 4x4 MIMO antenna, suitable for marine and coastal applications.One product option for the Poynting A-OMNI-0914- is the Poynting A-0914-V1-02 which replaces the 2x 2 meter cables and N-Type connectors with the direct mounting option and Bulkhead connectors.
| | | |
| --- | --- | --- |
| Antenna version | OMNI-0904-V1-01 | OMNI-0904-V1-02 |
| Antenna elements | 4 | 4 |
| Coax CableType | Twin-HDF 195 | N/A |
| Coax Cable Length | 2 m | N/A |
| Connector type | N-Type (Female) | N-Type (Female) |
| Product weight | 5.86 kg | 5.88 kg |
| Packaged weight | 9.42 kg | 9.4 kg |
| Packaged dimensions | 2550 x 180 x 210 mm | 2250 x 180 x 210 mm |
| EAN | 6009710924235 | 6009710924938 |

The Poynting A-OMNI-0914-V1-01 guarantees signal reception almost everywhere around the world. Poynting Antennas achieves this through new antenna configuration using multiple dipoles and a unique (patented) feed network. The antenna is 5G-future proof as it covers the 617-4200MHz LTE frequency which is becoming more popular in various regions and countries!
Application Areas
Marine applications / Yachts / Boats / Ferries
Enhanced LTE Reception
IoT and M2M
Poor data signal reception
Improve data transmission connection reliability & stability
Wi-Fi Applications
The Narwhall 0900 antennas are only available on order!
Delivery time 30-40 days after order.
In the box
1x Poynting A-OMNI-0914-V1-02
EAN 6009710924235
1x BRKT-90 Marine bracket RVS316 (NA = optional)
1x User manual (English)