Description
With the Poynting Ripple, you have a high-performance marine antenna solution with superior radiation patterns. Different routers and network modules can be placed in the RIPPLE antenna housing, which allows you to turn the antenna housing into a CPE application. Due to the short coaxial cables (35 cm), you have the advantage that there is a minimum of attenuation losses.
The Poynting Ripple comes in 2 versions namely the RIPL-8 and the RIPL-16. The A-RIPL-0008 is 4 x 4 MiMo with 8 antenna elements of which 4 are horizontally and 4 are vertically polarized. The A-RIPL-0016 is 4 x 4 MiMo with 16 antenna elements of which 8 are horizontally and 4 are vertically polarized. Due to the simultaneous horizontal and vertical polarization, you always keep connected with a shore cellular station.
Almost every 5G router has 4 pieces of LTE/5G antenna ports. This allows you to place two 5G routers with the RIPL-8 and up to four 5G routers with the RIPL-0016 with a size of up to 300x200x50 mm³.
Optimal performance
The Poynting Ripple antenna system consists of 8 or 16 cross-polarized (4 or 8x vertical, 4 or 8x horizontal) omnidirectional antennas that give optimum performance and global coverage for the frequency range of 617-7200 MHz. The maximum gain is 9.5 dBi.
The Poynting RIPL-V1-01 also features 4 x 4 dual band WiFi with a total of 4 SMA Male RP connectors. At 2.4 GHz the gain is 5 dBi and at 5 GHz 8.5 dBi. In addition, 2 GPS antenna elements are housed in the housing with an average gain of 21 dBi.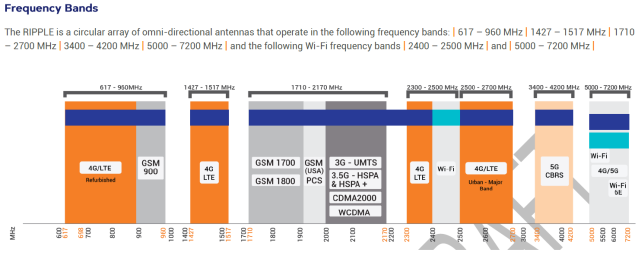 Strong and secure housing
With the IP65 rating, you are guaranteed a strong, safe and impact-resistant housing that can withstand harsh marine and coastal conditions. The Poynting Ripple antenna housing is protected against UV and salt water and has an advanced aluminum heat sink that ensures optimal heat sink.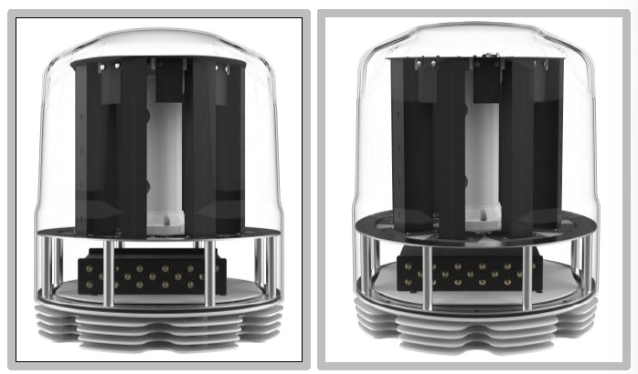 Properties
Antenna enclosure for router modems
8 or 16 cross-polarized omni directional antennas
4 x (4x4) MiMo LTE
4 x4 MiMo Wi-Fi, inclusief Wi-Fi 6E
Frequencies 617-7200 MHz
9.5 dBi maximum Gain
IP65 protection against UV and salt water
Advanced aluminum heat sink
Easy to install
In the box
Poynting A-RIPL-0008-V1-01
EAN 6009710927175 of
Poynting A_RIPL-0016-V1-01
EAN 6009710927199